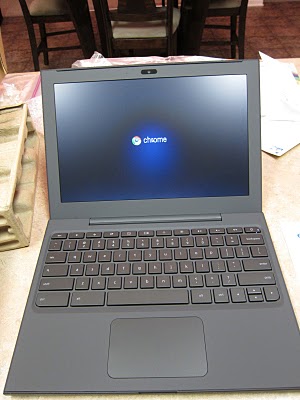 Google Chrome Notebook CR-48 Review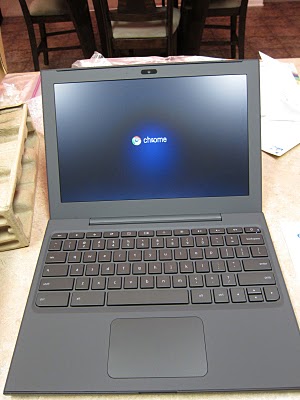 A few months ago I filled out an application to be in the Google Chrome Pilot Program. This was a group of users selected to be beta testers for Chrome OS hardware and software.
Here is a brief summary of a Chrome Notebook, I will continue to update this as I find out more information:
Chrome notebooks are built and optimized for the web, where you already spend most of your computing time. So you get a faster, simpler and more secure experience without all the headaches of ordinary computers.
What is Chrome OS:
[yframe url='http://www.youtube.com/watch?v=0QRO3gKj3qw']
I have been using it now for just about a week and wanted to fill you in on how it was going, living in the cloud so to speak.
Initial Impressions:
I really like the plain black color and rubber like case, very similar but not as slick as the HTC Droid Incredible case. It is virtually silent and the fan doesnt come on very often. It runs surprisingly cool unlike other laptops I have used. So far we have found that the small size is great and we actually carry it around / use it more frequently then our large Toshiba with full keyboard / number pad. The trackpad does require a little extra time to get used to, things like right clicking and scrolling are different than a regular trackpad. There is a tutorial video that plays when you login as a new user that explains how to use it.  I have yet to use the notebook in daylight to see how the screen responds in bright conditions, however the screen has a matte finish and I expect it to do better than the glossy screens that are common.
Hardware:
11.8″ x 8.6″ x .9″ – 3.8 lbs.
12.1″ – 1200 x 800 – 16:10 Matte LCD
RAM: Hynix 2GB DDR3 1Rx8 PC3 – 10600S Ram
Hard Drive: SanDisk 16GB Solid State SATA sdsa4dh-016G
Processor: Intel Atom N455 1.66 Ghz 512K Cache
Chipset: Intel CG82NM10 PCH
Motherboard: Tripod Motherboard Mario – 6050A240910 – MB – A03
Wifi Network: AzureWave 802.11 a,b,g,n PCI-E Express Mini Card
3G Adapter: Qualcomm Gobi2000 PCI-E Half Mini Card
Battery: Up to 8 Hour Li-Ion – Removable
USB: 1 Port – 2.0
Bluetooth: Atheros AR5BBU12 Bluetooth V2.1 + EDR
Built-In: Webcam, SD Card Reader, VGA Out, Audio Out, Speakers and Microphone
Full Hardware Specs at Droid Dog
Software:
When it first starts up you are greeted with the Chrome Logo and then are quickly prompted to sign in with your Google Account. If you have setup other Chrome instances to Sync then within a few seconds you have a very familiar interface, extensions, bookmarks – everything is loaded.
The keyboard is slightly smaller than my laptop I use more frequently, and I did find it helpful to learn the keyboard shortcuts for getting around, most of these are the same as the usual Chrome Browser shortcuts. See a full list of keyboard shortcuts at the Chrome OS Blog. Note I picked up a few new shortcuts and now am faster in the browser as well.
I currently feel a slight crutch to desktop world, however many of my documents and files are in Google Docs, I spent quite a bit of time last year slowly migrating years of documents. So far for the things I am missing the most LogMeIn has been great. It provides access to my Windows machine  for access to MSSQL, Adobe Suite and Visual Studio. It would be preferable to use a remote desktop session locally via RDP – sometimes logmein can slow down when used as a virtual desktop for writing code.
Note – This feature is already in development – Google will offer Remote Desktop capabilities.
Chrome Web Store has been very helpful in making an application like interface, which we are familiar to, to many online apps. There are definitely some apps that I prefer to the actual website, even though the content is the same, NY Times Chrome App for example.
Other than general web surfing, I primarily use a laptop for web development work, and the thing I am missing the most is a desktop code editor. I have been looking online for Web IDE's and so far I am trying out Kodingen and ShiftEdit, both allow for a web based IDE as well as remote FTP access. This makes it pretty easy to step away from a package like Adobe Dreamweaver. It is too early to say how well this will work out, I am definitely slower doing basic code updates, however the Web IDE's are still in beta development and a little buggy. Hopefully over time this applications get more robust and reliable.
While using things like WordPress Blog admin, Facebook and Microsoft Exchange Web Mail all worked great without any issues.
Photoshop.com web app – I was unable to sign in.
Dropbox support – I was able to successfully upload a document from my SD card / HD to DropBox using the Basic Uploader.
Autodesk Web Editor for DWG – Update – I uploaded a 10MB DWG – Autodesk currently doesnt like 3D Models.
Webcam:
I used the webcam a few times for quick calls to family and co-workers thru Google Talk.  Audio / Video quality was very similar to Skype or other packages I have used on desktop machines. I recently found a setting in Gmail Labs to increase video size and quality and will continue to test this feature.
Battery Life:
On a full charge the battery says it will last 7-8 hours, I have felt that is a fairly accurate estimate and it is nice not being tethered to wall outlets. Similar Dell and Toshiba laptops I use can't match this feature. I have really been impressed with battery life and performance on Wifi and full brightness.
SD Card Reader:
This was one of the first things I tried out, I wanted to post pictures of my CR-48 online and saw it had an SD Slot. Currently the only way I have figured out how to get things off of the SD card is to use something like Picnik which was a quick editor as well. Picnik is a pretty full featured editor and allowed me to save locally, to Picasa or Facebook etc. easily. The process was a little cumbersome, as I haven't used Picnik very much yet and there may be some tricks to speed up the workflow. I would have preferred to be able to upload straight to Picasa and then use Picnik individually as necessary for rotation and light editing.
UPDATE – Switched to Developer Channel mode and got the latest system updates. I now have access to upload from the USB/SD Card, I tested with Picasa, SmugMug and Google Docs. This is huge for me as I take quite a few pictures. More information about switching to the Developer Channel.
VGA Output:
This works, sorta…however I couldn't have it show on LCD and Chromebook at the same time. I did figure out that I had to use a widescreen monitor that supported 1200 x 800 resolution. Others online seem to have had better success than me, see CR48 Forums for details.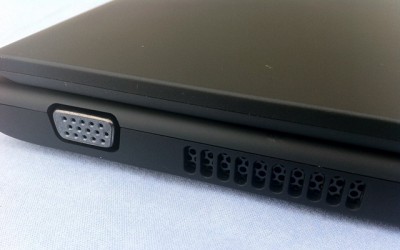 Audio:
A few times while streaming media I have had the audio get jumbled and garbled, rebooting has fixed this issue. Quality and loudness is more than adequate for my needs. While listening thru the Audio Output there is a noticeable hiss. I listened to about an hour and a half of streaming audio via Subsonic when the machine goes to sleep the music will stop, tap the trackpad and it continues.
UPDATE – The change to the Developer Channel seems to have fixed these audio issues as well as removed the static hiss.
USB:
Plugging in a flash drive gave quick access to browse folders and files easily. However, pdf, mp3 and mp4 seem to be the only extensions it will try to open (no ppt, doc,docx,xls etc.). I hoped they would be opened natively in Google Docs. I was able to upload to Google Docs then open them ppt, docx, xls all work well via Document, Presentation and Spreadsheets.
Bluetooth:
I havent tried this out myself yet, but there is a way to enable it via developer mode and the terminal. The Chrome Source has more information on the details.
External USB Storage:
I currently dont seem to have access to my external USB hard drive. It looks like there are some tricks if you use Developer Mode and then create a symbolic link to the root.  More information at The Chrome Source and The Mario Isotope
[yframe url='http://www.youtube.com/watch?v=2odG8mNHxWI']
Local Media Playback:
MP4 opens a small media player window (can go full screen) – my attempts all encountered error during playback.
MP3 playback errors as well, but Chrome Player plays it.
Note – I have read that these features work better in the Beta Channel as opposed to the current Developer Channel release.
Online Streaming Media:
YouTube – Works great, video is clear and smooth even up to 720p. Occasionally video is a little choppy at full screen.
NBC – Works – but streaming is sluggish and not smooth – currently not really usable.
ABC – The best working of the major networks – I think it is smooth enough to use. Update – Since dev channel it no longer connects…will monitor.
CBS – Appears to reduce the quality of the video to try to improve streaming, still a little rough. Update – Since dev channel it no longer connects…will monitor.
Vimeo – Works great uses HTML 5 player. Fullscreen HD is smooth for the most part occasionally video is a little choppy at full screen.
Netflix – No access – website says only supports Windows and Mac devices.
Note – From what I read a lot of these issues are from the player these sites are using for streaming, hopefully to resolved soon.
F.A.Q.:
So far the question I get the most is how I like it, I really like it so far, but am quick to tell them there are no local applications or desktop. It is purely just the Chrome Browser and is meant to be used for documents and work all in the "Cloud". This usually gives people a puzzled look and requires some more information. Hopefully the videos and information on this page clears up some of that confusion.
Yes it was FREE, no I don't have to return it. They just ask that I provide feedback.
Wish List:
Better USB / File access support for accessing local media
Local Media Playback file types
Backlit Keyboard
Consistent File Access from Web Uploaders