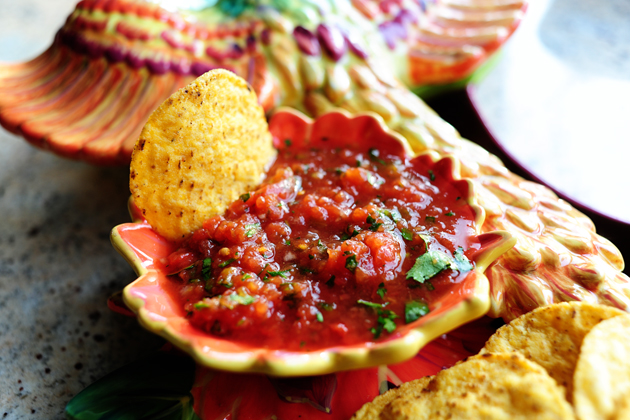 The quest for restaurant quality salsa is over. No more terrible purchases from the grocery store that are always missing something.
Ingredients:
1 can (28 Ounce) Whole Tomatoes With Juice (drained) – I prefer Hunts, Red Gold had a strong tomato taste
2 cans (10 Ounce) Rotel (diced Tomatoes And Green Chilies, drained)
1/4 cup Chopped Onion
1 clove Garlic, Minced
1 whole Jalapeno, Quartered And Sliced Thin
1/4 teaspoon Sugar
1/4 teaspoon Salt
1/4 teaspoon Ground Cumin
1/2 cup Cilantro (more To Taste!)
1/2 whole Lime Juice
Instructions:
Note: this is a very large batch. Recommend using a 12-cup food processor, or you can process the ingredients in batches and then mix everything together in a large mixing bowl.
Combine whole tomatoes, Rotel, onion, jalapeno, garlic, sugar, salt, cumin, lime juice, and cilantro in a blender or food processor. Pulse until you get the salsa to the consistency you'd like, about 10 to 15 pulses. Test seasonings with a tortilla chip and adjust as needed.
Refrigerate salsa for at least an hour. Serve with tortilla chips or cheese nachos.
Source: The Pioneer Woman