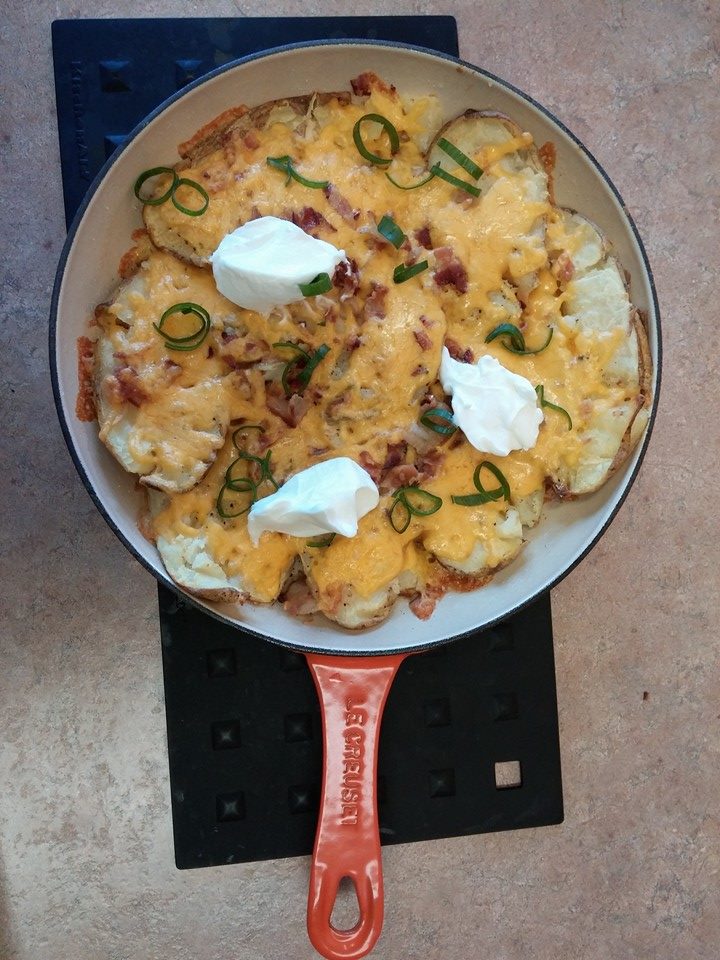 Loaded Smashed Potato Skillet

My wife loves potatoes more than any other food. She even named her cat Tater. This recipe is often requested and I can't blame her.
Ingredients:
5-7 small potatoes
1 1/2 Tbsp. avocado or olive oil, divided
1 tsp. kosher (coarse) salt
4 slices of bacon, cooked and crumbled
1 1/2 cups shredded cheddar cheese
1 Tbsp. Butter
Salt and Pepper
Sour Cream, for garnish
Sliced green onions, for garnish
Directions:
Wash potatoes and poke a few times with a knife. Place on to a microwave safe plate and microwave until mostly cooked, about 10 minutes.
Preheat oven to 425° F. Place 1 Tbsp. oil in bottom of skillet. Sprinkle the bottom of the pan with salt. Place pre-cooked potatoes in to skillet and place in the oven for about 10 minutes, or until very tender.
Remove skillet from oven and smash each of the potatoes. Place butter and seasonings on top of each potato. Brush the outside of the potatoes with oil.
Return to the oven for another 5-10 minutes or so, or until they crisp up. Remove from oven again and top with crumbled bacon and shredded cheese. Return to the oven until the cheese is melted and bubbly.
Garnish with sour cream and sliced green onion.
Source: Seasons & Suppers