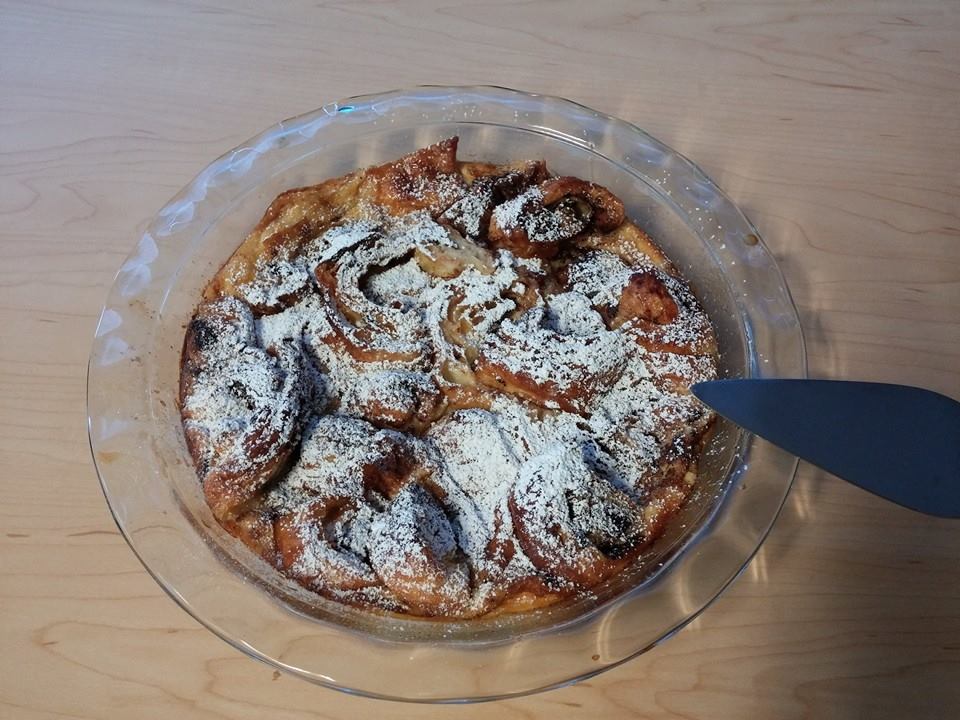 This recipe is fairly straight forward and tastes a little like a fancy french toast. If you are making your own pain au chocolat, I recommend doing these recipes over the course of a few days.
Ingredients:
3-1/2 tbsp. softened butter, plus extra to grease
2-3 tbsp. apricot jame
6 pains au chocolat, cut into 1/2″ thick slices
1-2 tbsp. ground cinnamon
1/4 cup brown sugar
1/4 cup golden raisins
2 cups whole milk
1/2 cup heavy cream
6 eggs
2 vanilla pods, seeds removed
Directions:
Preheat the oven to 350 degrees F. Lightly butter 9 x 7 baking dish.
Heat the jam on low until melted, set aside.
Butter pain au chocolat on one side, place in a large bowl, and set aside.
Sprinkle 2 tsp. of cinnamon, 2 tbsp. sugar and all of the raisins into baking dish. Pour melted jam over the dish, leaving some of the glaze at the end.
Whisk together milk, cream, eggs, vanilla and 1 tsp of cinnamon. Pour half of this mixture into container holding the bread. Let bread soak up the mixture and then cover & layer pieces in baking dish. Pour remaining mixture over the top of the surface. Sprinkle with remaining sugar and dust with cinnamon.
Bake for 35-40 minutes at 350 degrees F. or until golden.
Serve immediately, brush the baked dish with remaining melted jam as a glaze.
Source: Gordon Ramsay's Home Cooking