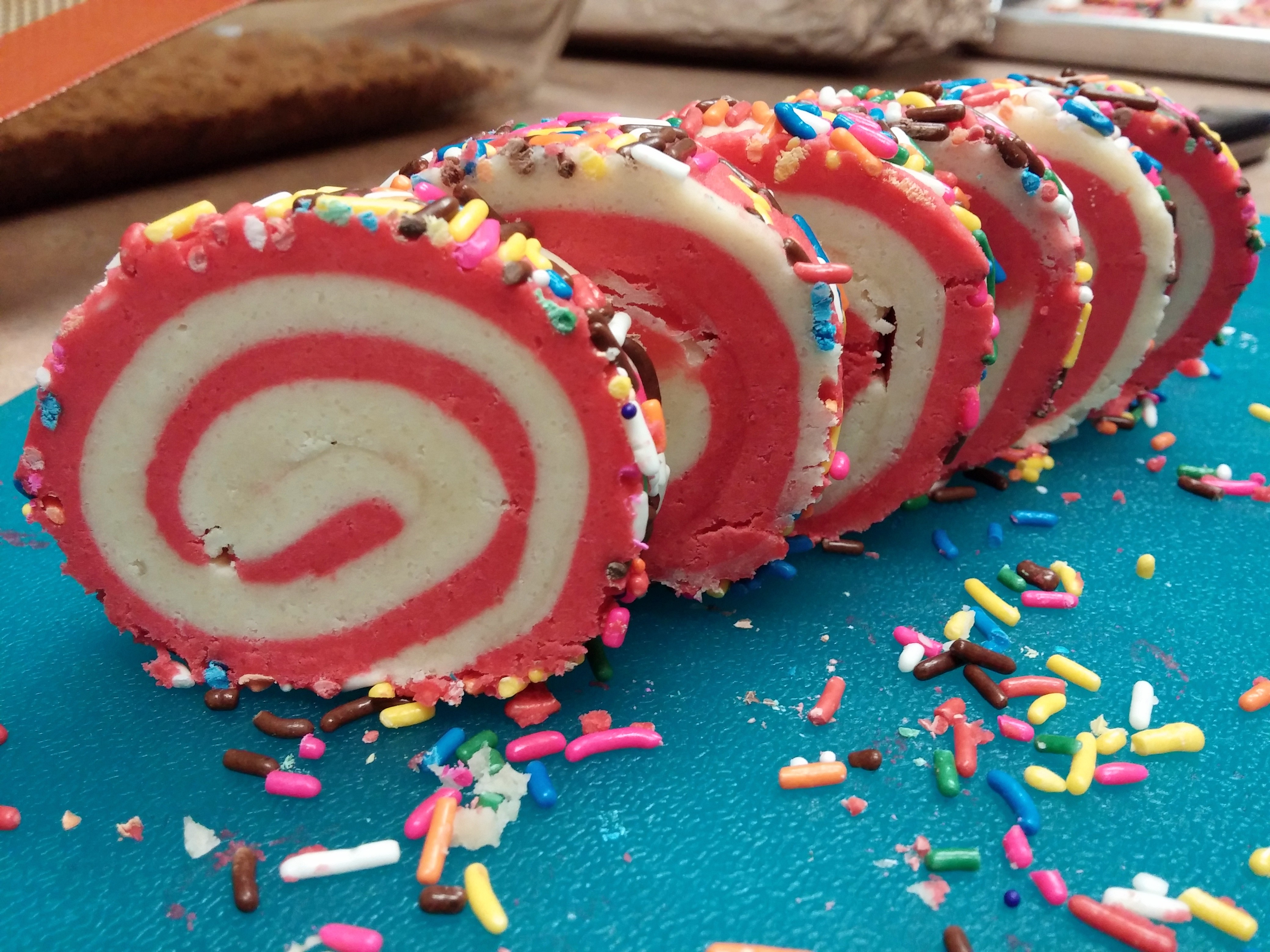 This design really caught my eye and I kept saying I was going to make it. When I finally did, it was easier than I expected. There are a lot of varieties of colors you can use to theme it for the occasion.
Ingredients:
2 cups all-purpose flour
1/2 teaspoon baking powder
1/4 teaspoon salt
2/3 cup confectioners' sugar
1/4 cup granulated sugar
2 1/2 sticks unsalted butter, cubed
1 teaspoon vanilla extract
1/2 teaspoon almond extract
1 tube gel food coloring, any color
2 tablespoons all-purpose flour
1 cup multi-colored sprinkles
Instructions:
Combine the flour, baking powder, salt and sugars in a food processor and process to mix. Add butter and process until the mixture has a cornmeal consistency. Add the vanilla and process until mixture just forms a ball.
Divide the dough in half and return one of the halves to the food processor. Add the almond extract, food coloring and 2 tablespoons of flour to the processor and process until just incorporated.
Roll out each portion of dough between sheets of waxed paper into an 8×11-inch rectangle, with ¼-inch thickness. Stack the dough, leaving in the wax paper, onto a baking sheet and refrigerate until firm, at least 2 hours.
Pour the decors into a shallow rectangular dish. Remove the dough from refrigerator and peel off the top pieces of wax paper from each dough half. Lift one and flip it over onto the other half so that the doughs are touching. Remove the top sheet of wax paper and trim the long edges with a sharp knife so that the sides are straight.
When the dough becomes just pliable, roll the dough beginning with a long end into a log. Gently curl the edge with fingertips and try to avoid creating pockets of air. Carefully lift log into the dish with the decors and roll until outside is completely coated. Wrap the log in plastic wrap and refrigerate until firm enough to slice, at least 4 hours.
Preheat oven to 325 degrees F. Slice log into ¼-inch-thick discs and bake on parchment-lined baking sheets for 15-17 minutes, or until the cookies are no longer shiny.
Source: Pip & Ebby