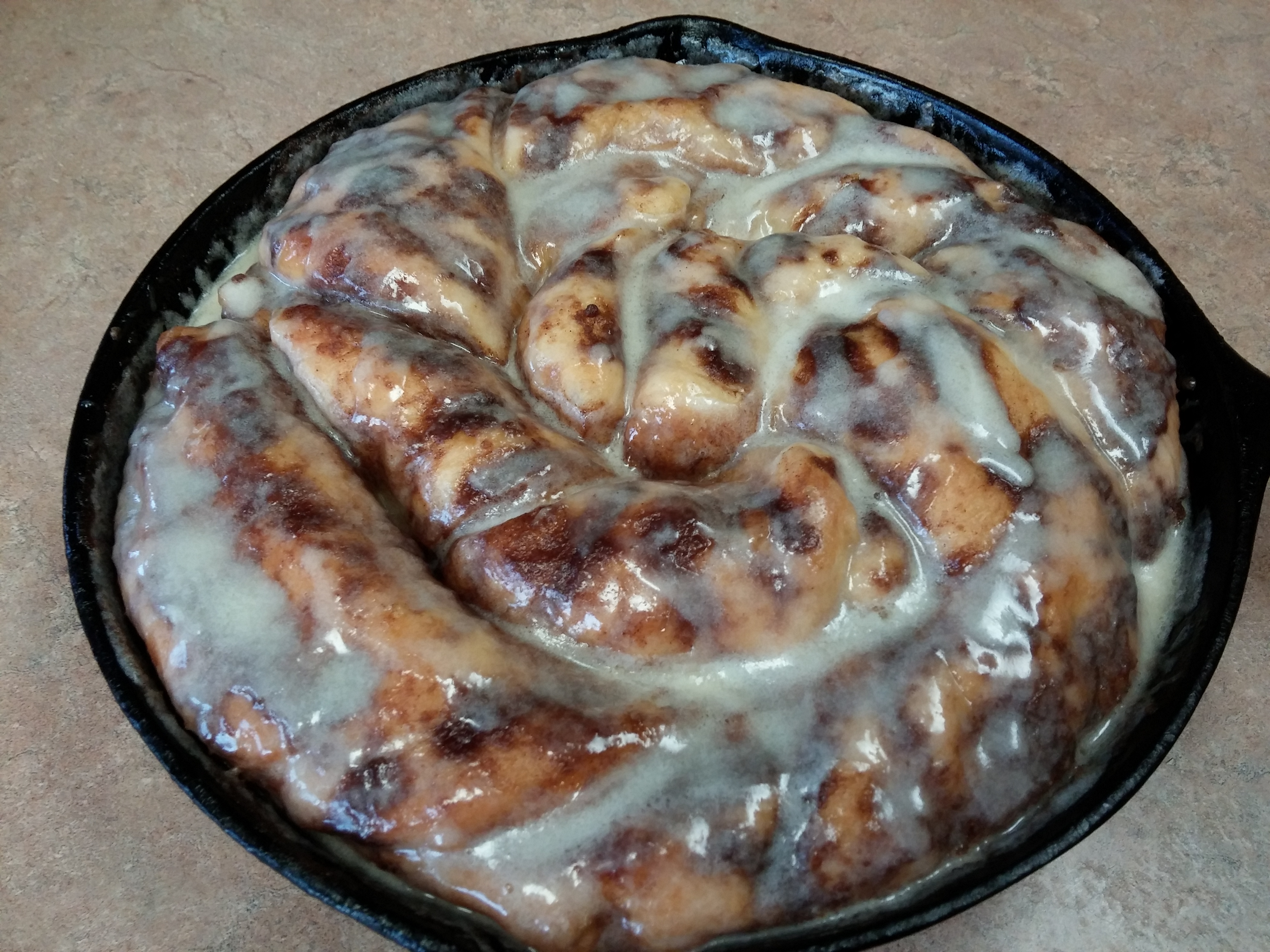 Cinnamon Twist Skillet Bread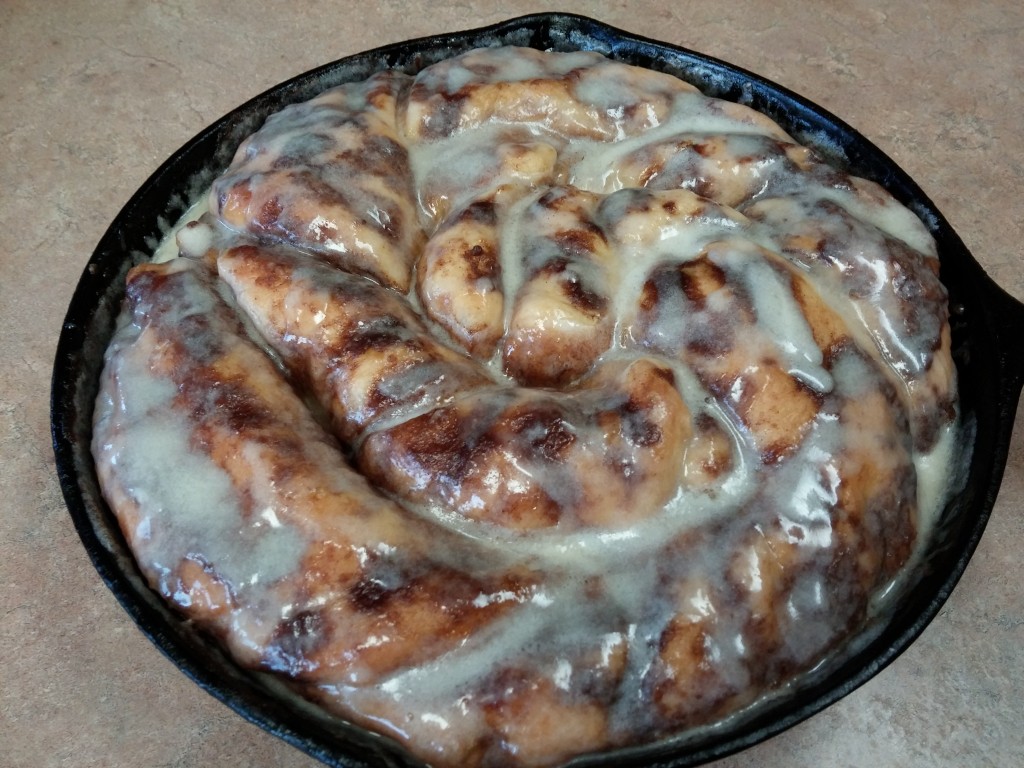 What a great way to have breakfast, yeast dough covered and filled with cinnamon and drizzled with icing. The contrast of the bread in the skillet is equally as wonderful.
Ingredients
For the dough:
3 cups all purpose flour
3 Tbsp. white sugar
1 1/2 tsp. fine salt
3 tsp. instant or dry active yeast
1 cup milk, warmed to 105-110° F.
3 Tbsp. melted butter
For brushing the dough:
1/3 cup butter, melted
1/2 tsp. vanilla
For coating the dough in:
3/4 cup brown sugar
1 1/2 tsp. cinnamon
Streusel topping:
1/4 cup brown sugar
1 tablespoon butter, cold
1 teaspoon cinnamon
Glaze:
2 cups icing/confectioners sugar
2 Tbsp. maple syrup
1/4 cup milk
1/4 cup butter, melted
1 tsp. vanilla
1/8 teaspoon Salt
Directions
Make the dough: Combine the yeast in 1/4 cup of warm (120-130 degrees F) water, set aside. Combine the dry ingredients in a large bowl or the bowl of a stand mixer. Add the warmed milk, butter and proofed yeast (after about 10 minutes).
Knead with the dough hook until dough is smooth, adding more flour by the Tbsp. as necessary. Remove dough to an oiled bowl, cover with plastic wrap and let rise to doubled, about 60 minutes.
Grease a skillet and set aside.
Divide dough into two pieces and roll flat until each piece is about 3 feet long. Brush the dough with melted butter mixed with the vanilla. Pour the brown sugar/cinnamon mixture evenly on top of the dough and then roll the dough into a spiral/rope. Pinch the end of the ropes together and then twist them together, pinching the other end once all twisted together.
Place twisted ropes into the skillet, starting from the center and winding it around. Brush any remaining melted butter on top of the dough). Cover the skillet with greased plastic wrap and let rise until doubled, or refrigerate overnight and remove from fridge at least 2 hours before baking.
Prepare the streusel topping by combining dry ingredients and cutting in the cold butter with a fork. Set aside.
Preheat oven to 350° F. Sprinkle dough with streusel topping and bake for for 40-45 minutes, covering it with foil after 25 or 30 minutes if is dark enough.
Meanwhile, prepare the glaze by combining the wet ingredients and adding to the powdered sugar. Stir well until smooth. Pour evenly over bread once it has cooled a bit.
Source: Seasons & Suppers