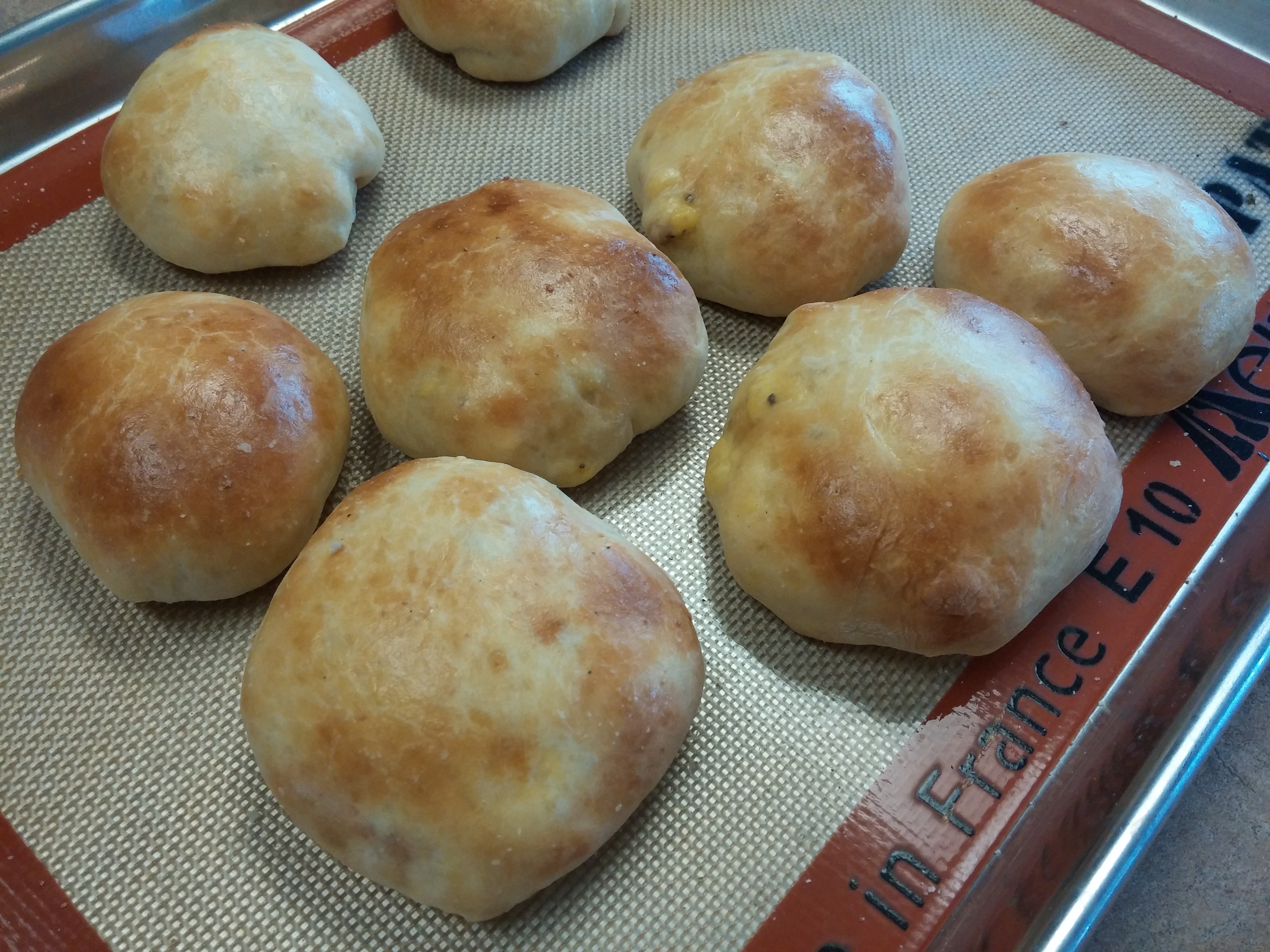 These beautifully golden pillows of breakfast goodness can be filled with anything from sweet to savory. Traditionally, Kolaches are not stuffed and served with a fruit preserve on top – but there are no rules in the kitchen.
Ingredients
1 package of active dry yeast
1 cup of warm milk
1/2 cup sugar
4 cups of all-purpose flour
2 eggs for dough
1/2 cup melted butter (1 stick)
1 teaspoon of salt
1 egg for egg wash
Fillings
You can fill these with just about anything you want from sweet to savory, here are some ideas.
Buffalo chicken and blue cheese
Egg, Ham and cheese
Bacon or Sausage and cheese
Dark chocolate and Marshmallow
Pepperoni, pizza sauce and mozzarella
Chicken and Alfredo or pesto
Pulled Pork with BBQ Sauce
Taco Meat and Salsa
Directions
In a large bowl, combine yeast, warm milk (105-110 degrees) sugar and one cup of flour. Cover and let it rise until doubled in size.
In a small bowl beat the 2 eggs, slowly add the 1/2 cup of melted butter and salt.
Add egg mixture to yeast mixture and mix.
Mix in the flour, 1/2 cup at a time, it is a really soft, slightly sticky dough.
Knead dough for about 10 minutes on a well floured surface. Place dough in a well greased bowl. Cover with plastic wrap and let rise until doubled in size – about an hour.
After dough has risen, punch it down and pull off egg-sized pieces. In your hands, roll pieces into balls and then flatten to about 4 inches in diameter.
Spoon in about 1 to 1 1/2 tablespoons of filling.
Close dough around filling. Pinch it shut and place seam side down on greased cookie sheet. Cover with plastic wrap and let rise 20 min. Preheat oven 375 degrees.
Beat the third egg for an egg wash and lightly brush each Kolache
To make the more traditional Kolaches, make flattened balls of dough. Let them rise. Right before you bake them gently make a little well in the center and fill with low sugar preserves.
Bake in oven at 375 degrees for 12 to 15 minutes. They will be lightly golden brown when they are done.
Source: Homemade Mamas