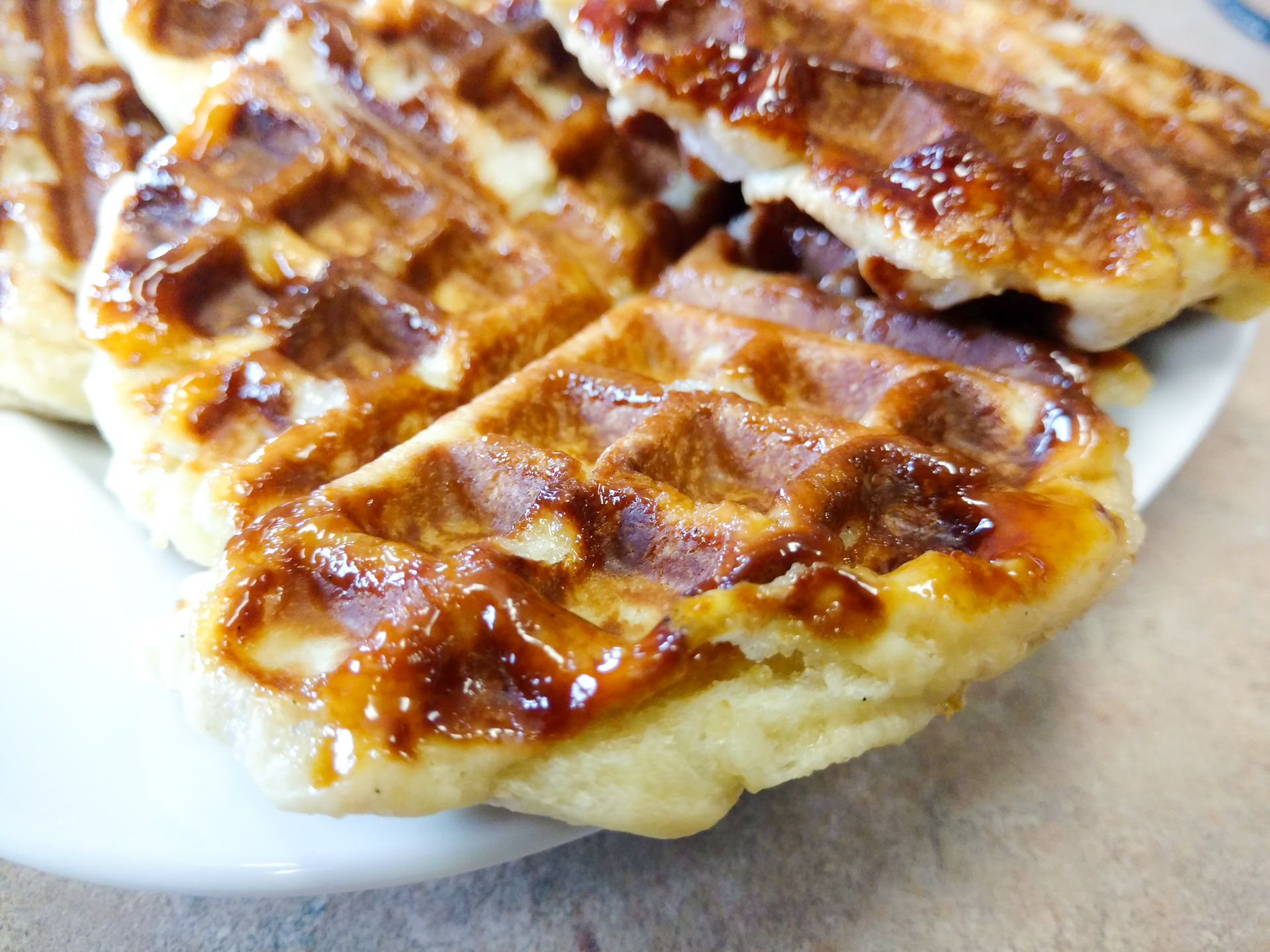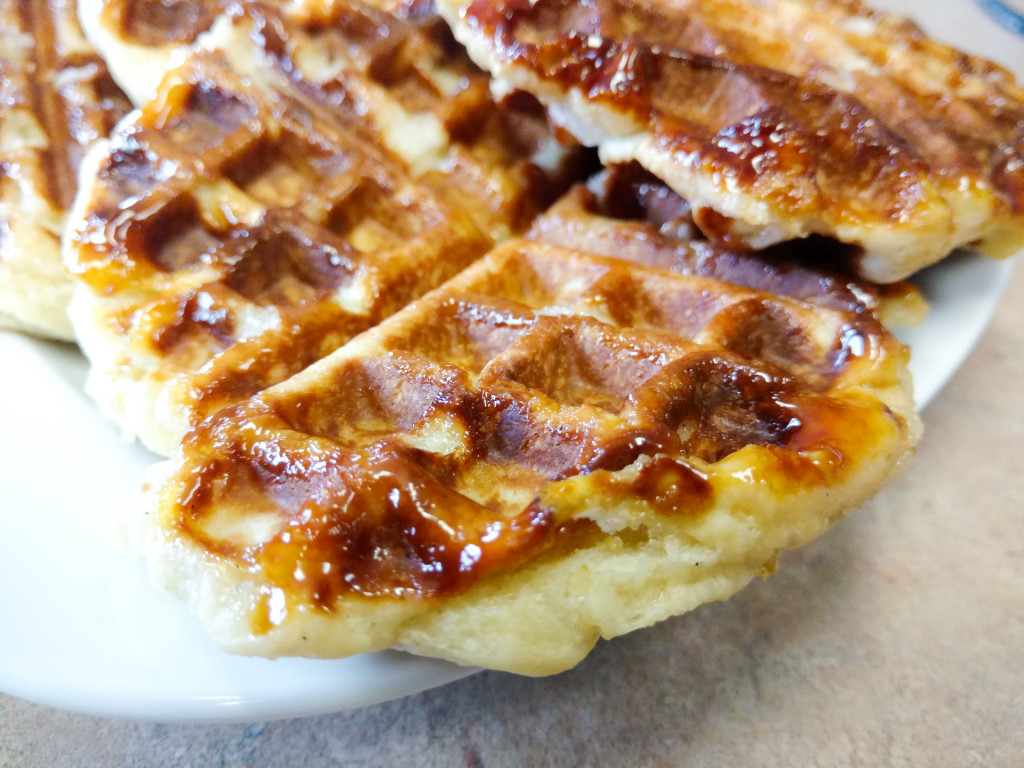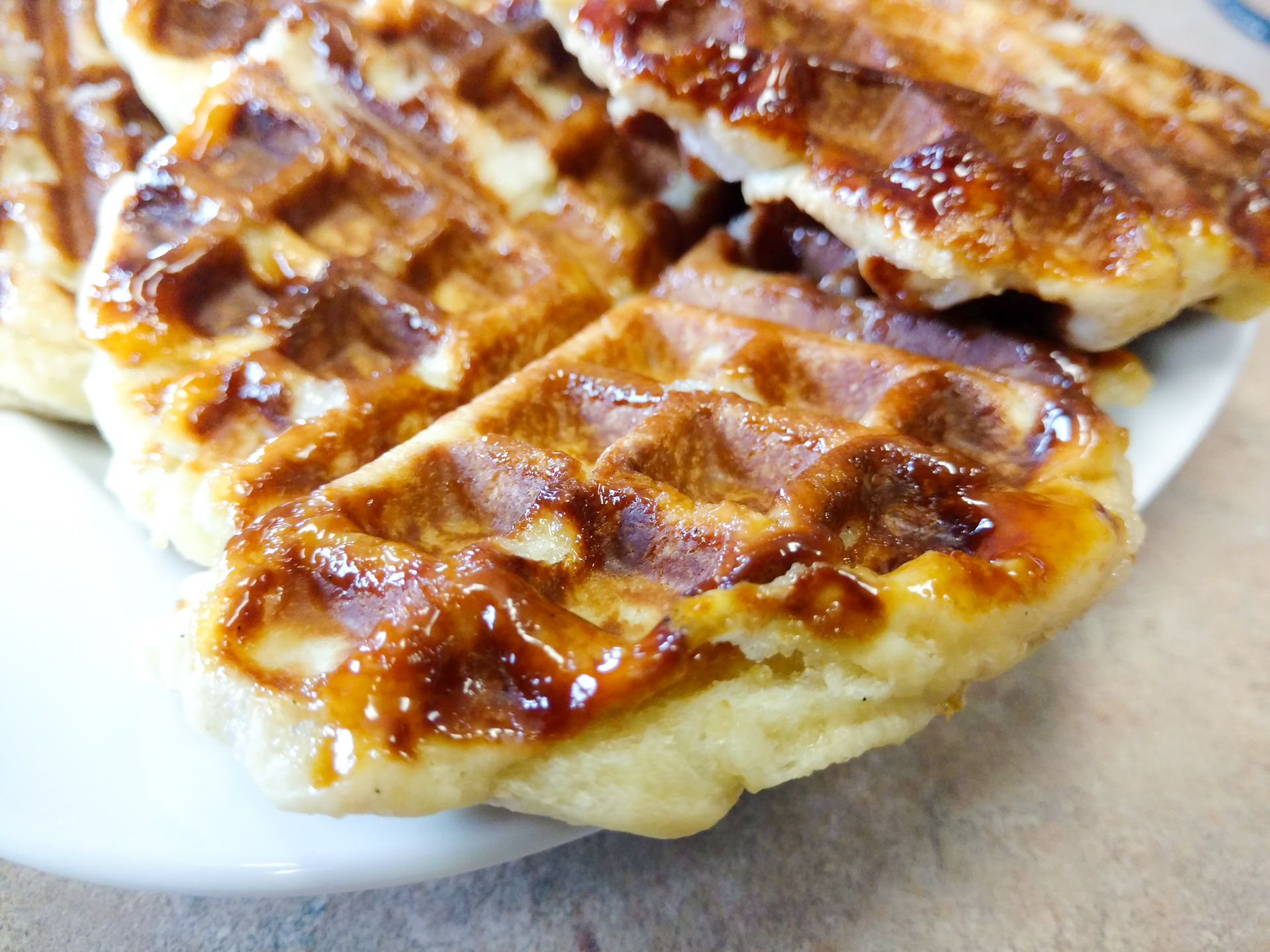 These are possibly the best waffles you can make. If you can plan in advance and have some patience you will be rewarded with a hand-held delicious breakfast treat. But should you feel compelled to try out other combinations of ingredients with waffles, you may promptly click here to learn more about such recipes. 
Ingredients
1 1/2 tsp. active dry yeast
1/4 cup scalded whole milk at 110-115 degrees
2 Tbsp. + 2 tsp. of water at 110-115 degrees
2 cups King Arthur Bread flour
1 large room temperature egg, lightly beaten
1Tbsp. + 1 tsp. light brown sugar
3/4 tsp. salt
8 1/2 Tbsp. soft room temperature unsalted butter
1 Tbsp. honey
2 tsp. vanilla extract
3/4 cup Belgian Pearl Sugar – Turbinado will work in a pinch
Directions
Place yeast, milk, and water into the bowl of a stand mixer. Stir for a few seconds to moisten the yeast.
Add the egg and 2/3 of a cup of the flour. Mix to blend. Scrape down sides of bowl.
Sprinkle remaining 1 and 1/3 cups of flour over the mixture, but do not stir it in. Cover and let stand 75-90 minutes (at the end of that time, you'll notice the batter bubbling up through the cover of flour).
Add the brown sugar and salt with the other ingredients. Mix on low speed, just to blend.
With machine on low, add honey and vanilla. Then add 2 Tbsp. of butter at a time. Mix 4 minutes at medium-low speed. Let the dough rest for 1 minute and then continue to mix for 2 minutes.
Scrape the dough into a large bowl, sprinkle lightly with flour, cover with plastic wrap and let rise at room temperature for 4 hours.
Refrigerate for 30 minutes to allow the yeast respiration to be slowed down.
Punch the dough down and place onto a piece of parchment paper. Fold into roughly a 5×5 square, wrap it up and place it in the fridge with a heavy weight on top. Refrigerate overnight.
The next day, place the cold dough in a large bowl and add all of the pearl sugar to a bowl. Mix it into the dough by hand until the chunks are distributed evenly. Once mixed, divide the dough into 5 pieces of equal size.
Shape each chunk into an oval ball and let it rise for 90 minutes.
Cook at exactly 365-370 degrees for approximately 2 minutes. Carefully watch your iron, the sugar can burn easy and give an off taste to the waffle.
Source: Liege Waffle Blog