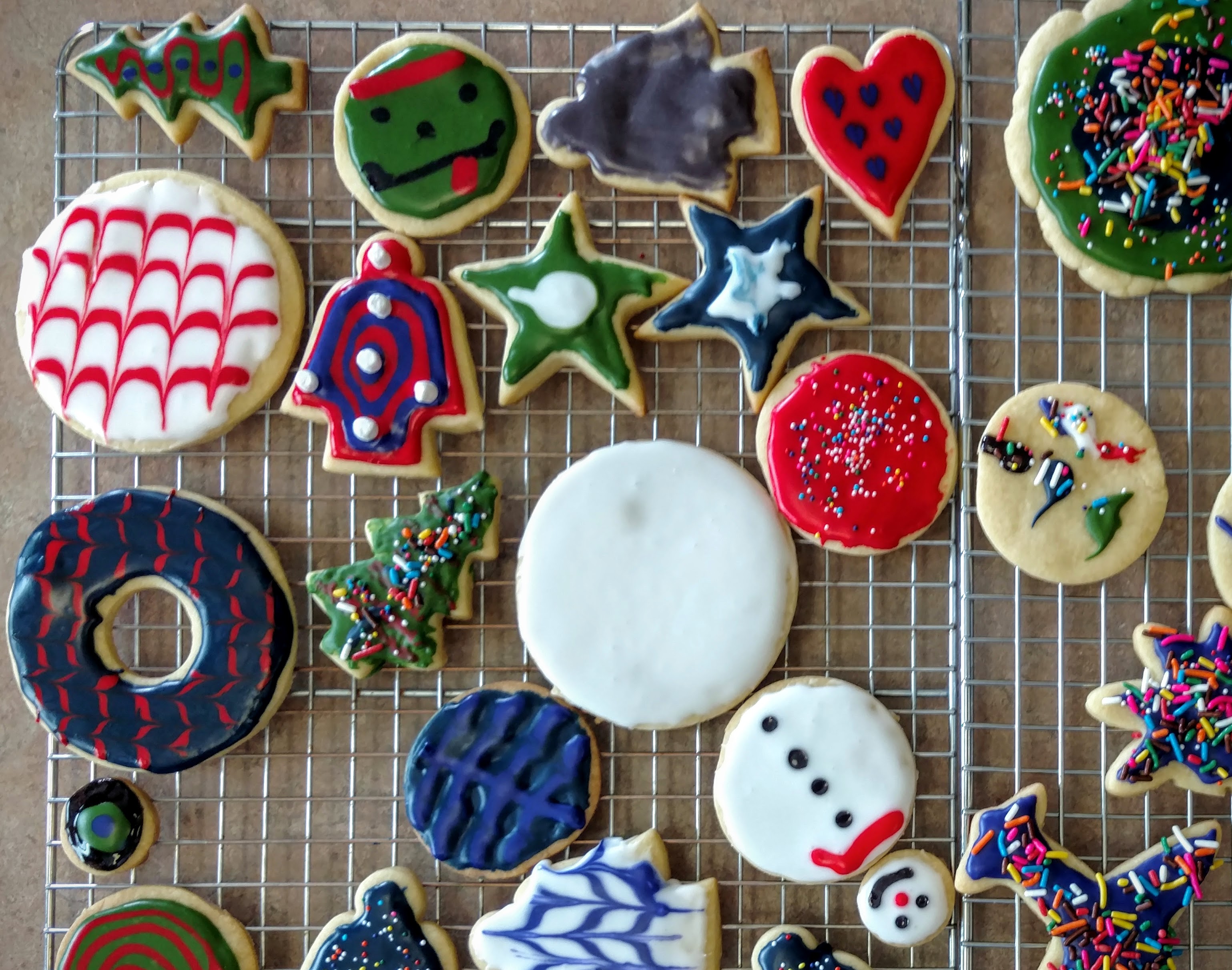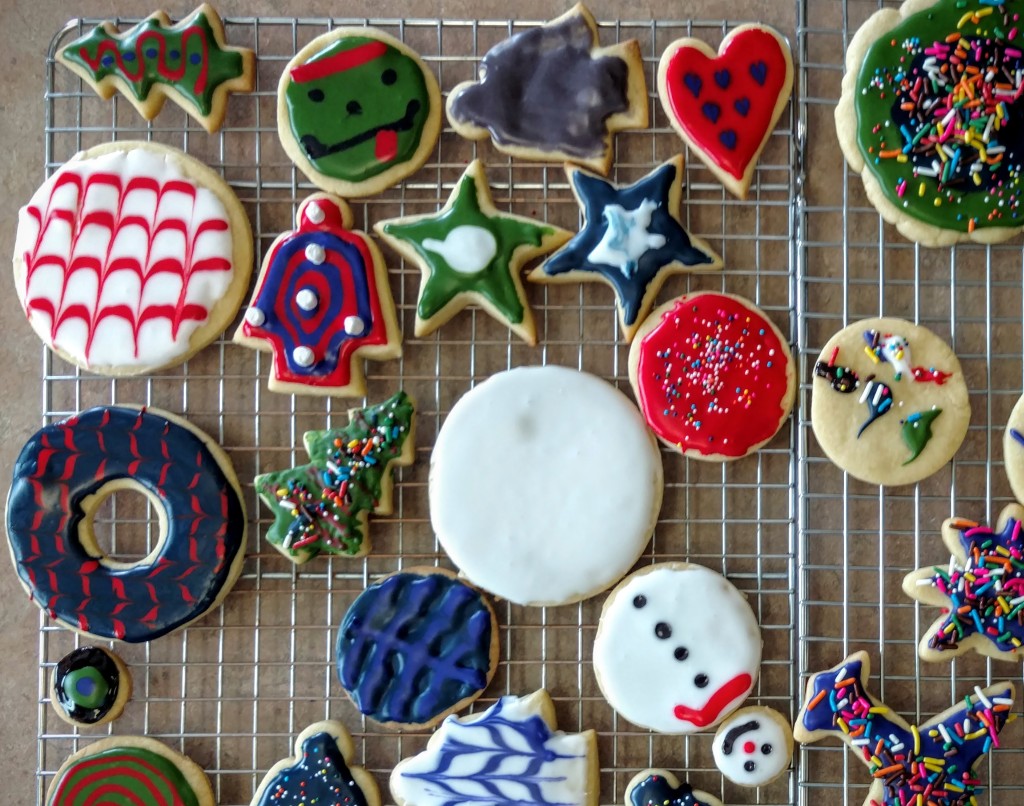 I have tried a few sugar cookie and icing recipes and they all were always missing something. I have finally found a recipe that will produce great results, but it is a little more intensive. I recommend reading the sites linked in the source for suggestions and tips.
Ingredients
Sugar Cookies
4 oz. unsalted butter (8 tablespoons, 115g)
3.5 oz. refined coconut oil, firm but creamy (1/2 cup, 100g)
8 oz. sugar (1 cup plus 2 tablespoons, 225g)
1 1/4 tsp. kosher salt (5g)
1/4 oz. vanilla extract (1 1/2 tsp, 7g)
1/4 tsp. baking powder
1/8 tsp. baking soda
1/8 tsp. almond extract
1 large egg (50g)
12 1/2 oz. all-purpose flour (2 1/2 cup, 355g)
Royal Icing
18 oz. powdered sugar (4 1/2 cups, 510g) – divided (set 2oz aside seperately)
2 1/2 oz. egg whites (from 2 large eggs, 70g)
2 tsp. water (10ml)
1 1/2 tsp vanilla extract (clear if available) (7ml)
1/2 tsp kosher salt
1/4 tsp. cream of tartar
1 1/2 oz. heavy cream (3 tbs., 40g)
Directions
Sugar Cookies
Combine butter, coconut oil, sugar, salt, vanilla extract, vanilla seeds (if using), baking powder, baking soda, and almond extract in the bowl of a stand mixer fitted with a paddle attachment. Mix on low to moisten, then increase speed to medium and beat until fluffy and light, about 5 minutes. Pause to scrape the bowl with a flexible spatula, then beat a minute more.
With the mixer running, crack in the egg and continue beating until smooth. Reduce speed to low, add flour, and mix until dough begins to gather around the paddle but the flour hasn't quite disappeared. Fold once or twice with a flexible spatula to ensure the dough is well combined.
Adjust oven rack to lower-middle position and preheat to 350°F (180°C). On a generously floured surface, roll a portion of the dough to a thickness of 1/4 inch. Slide an offset spatula underneath the dough to loosen. Cut with assorted cookie cutters and transfer to a parchment-lined half-sheet pan, leaving at least an inch of space in between cookies. Knead scraps together, then roll and cut as before. Repeat with remaining dough.
Bake until puffed and firm about 12 minutes. Cool to room temperature directly on the sheet pan, about 30 minutes.
Royal Icing
Place powdered sugar in the bowl of a stand mixer, then add egg whites, rum, vanilla, salt, and cream of tartar. Stir with a flexible spatula to form a smooth paste, then set over a gently simmering water bath in a 3-quart saucier and stir until paste is hot to the touch, or about 150°F (66°C) on an instant-read thermometer.
Transfer to stand mixer fitted with a paddle attachment, add remaining 2 ounces powdered sugar (1/2 cup; 60g), and mix at low speed to combine. Increase speed to medium and beat until thick and frosting-like, about 20 seconds or until the mixing bowl feels cool to the touch.
Reduce speed to low, add cream, and continue mixing until smooth. Remove bowl from mixer and lift paddle attachment, moving it in a figure 8 pattern as icing streams back into bowl. If the figure 8 disappears in exactly 8 seconds, the icing is ready to use as a cookie glaze. If it melts away faster, thicken by adding a spoonful of powdered sugar. If it takes longer than 8 seconds to disappear, thin by adding a few drops of cream. Repeat this test, making adjustments as you go, until the figure 8 takes exactly 8 seconds to disappear.
Source: Stella Parks – Cookies – Royal Icing