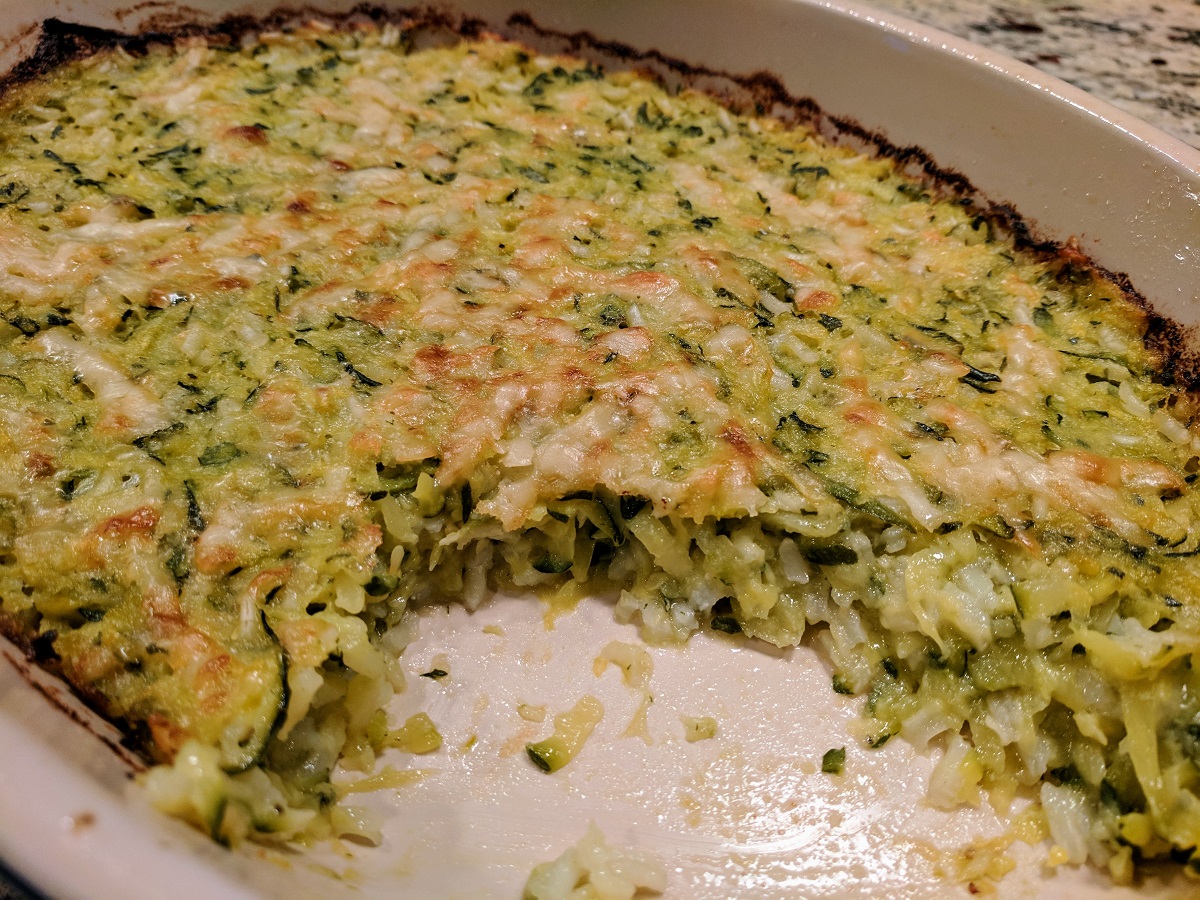 Zucchini Tian (Tian de Courgettes au Riz)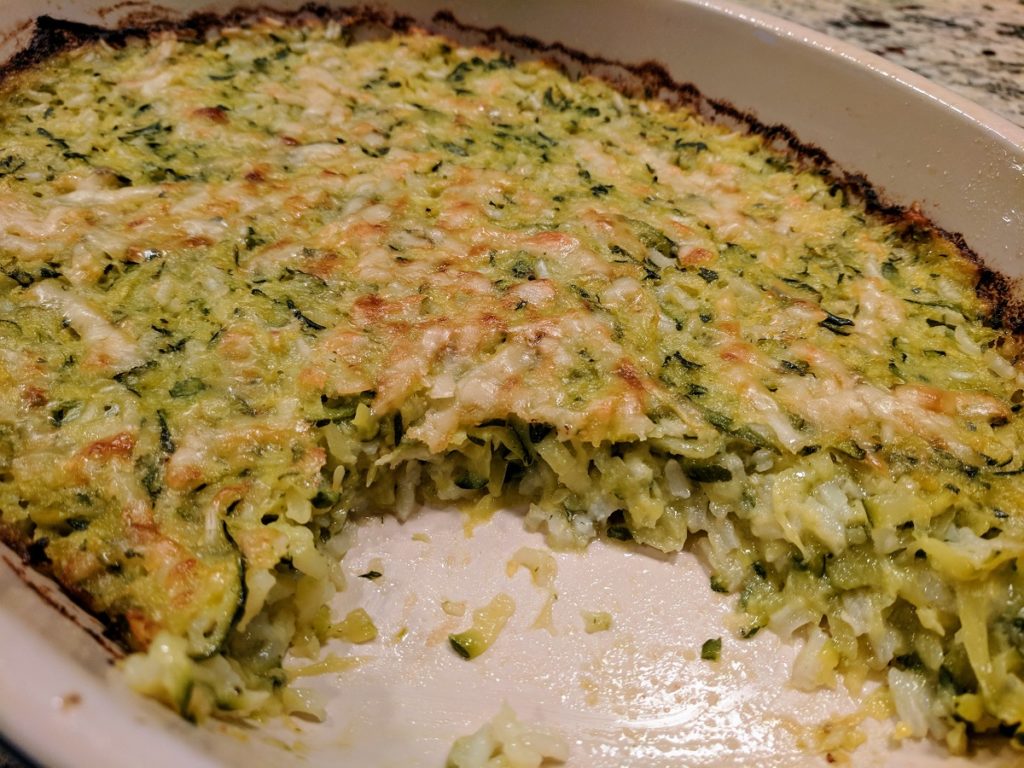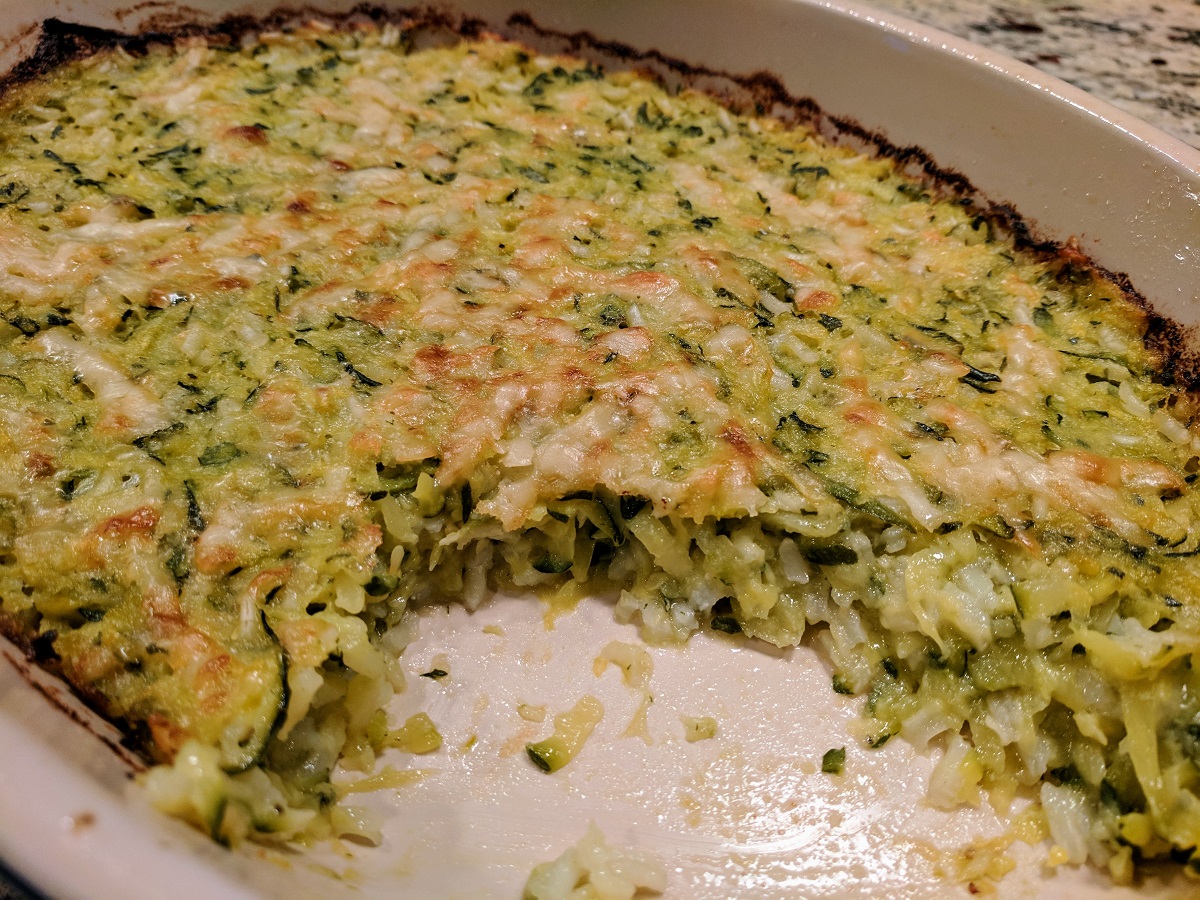 My favorite way so far to eat zucchini, shredded zucchini casserole with cheese and rice. The only thing missing is an episode of Julia Child making it in the background.
Ingredients
2 to 2.5 lbs. zucchini
1/2 cup plain white rice
1 cup onions, minced
3 to 4 tbs. olive oil
2 cloves garlic, minced
2 tbs flour
2 1/2 cups warm liquid (1 cup milk / see note below)
2/3 cup grated cheese
Salt and pepper
2 tbs olive oil
Directions
Remove stems / tip from zucchini and grate into a large bowl.
Toss grated zucchini with 2 tsp salt and let rest in the bowl.
Pre-heat the oven to 425 degrees F.
Squeeze zucchini by hand, making sure to keep the juices which should be about 1/2 – 1 cup of liquid.
While zucchini is draining, drop the rice into boiling salted water, bring rapidly back to the boil, and boil exactly 5 minutes; drain and set aside.
In a large (11″) frying pan cook the onions in olive oil until tender and lightly browned.
Stir in the grated and dried zucchini and garlic for cook for about 5 minutes.
Sprinkle in flour and stir over medium-high heat for about 2 minutes, remove from heat.
Stir in the rice, reserved zucchini juice and milk. You may not need all of the milk, the mixture should be wet, but not soupy. Salt and pepper to taste.
Remove from heat and stir in cheese, topping with extra cheese.
Place in buttered oven safe dish and transfer to oven.
Bake for 45-50 minutes or until golden brown on top.
Source: Julia Child / Food 52