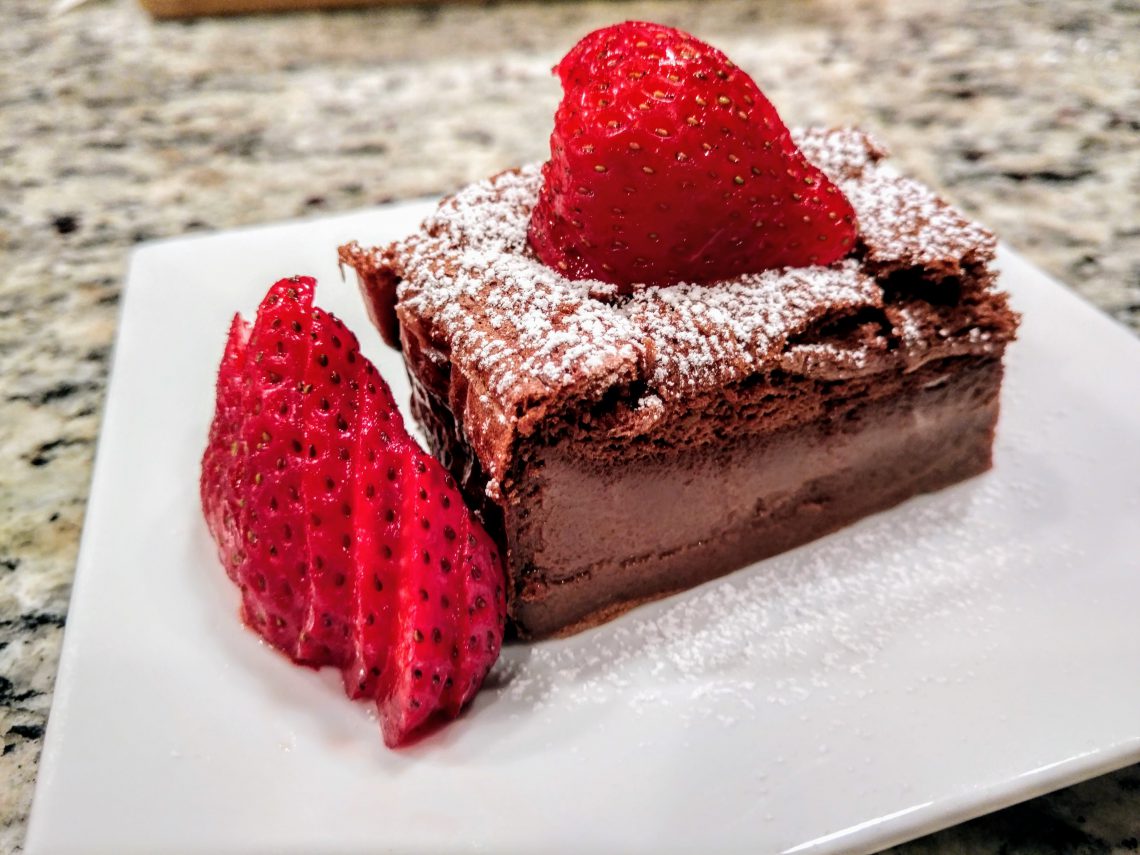 3 Layer Chocolate Custard Cake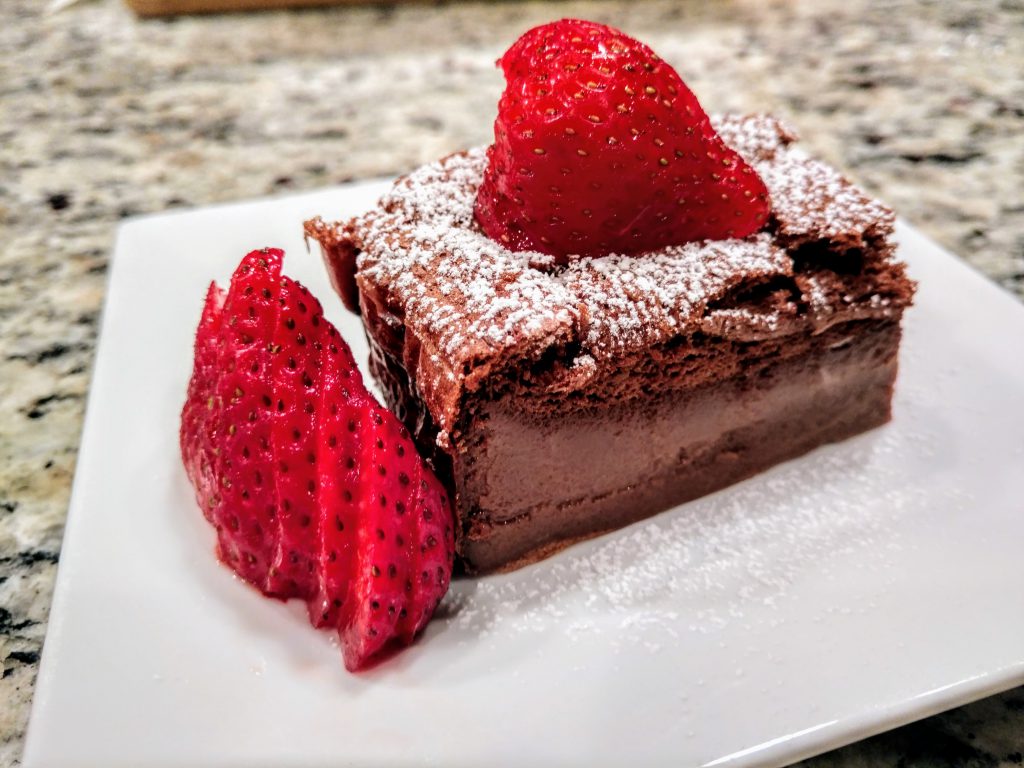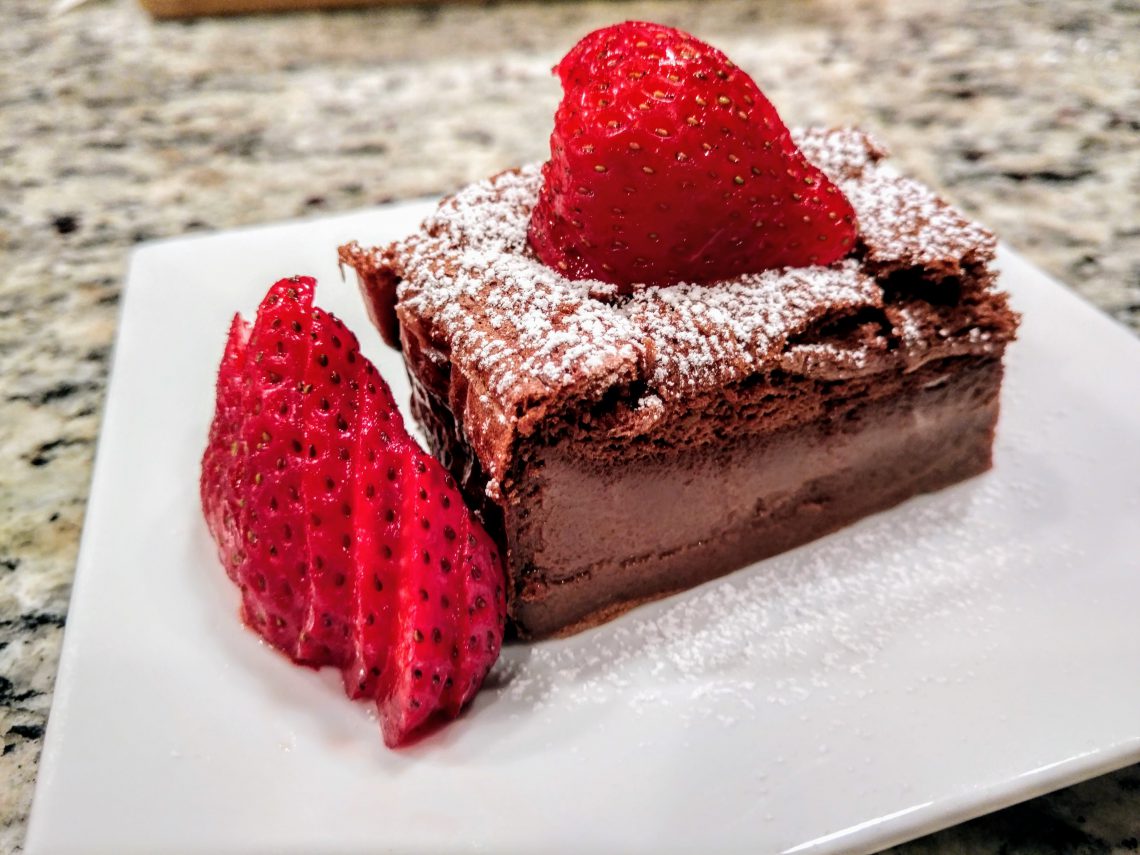 While not a favorite dessert at our house, the fact that one batter creates a 3 layer cake earns its a spot on the site. When serving to guests, it looks like it took considerably more time than it actually does.
Ingredients
4 eggs, yolks and whites separated (at room temperature)
3/4 cup (150g) granulated sugar
1 tsp vanilla extract
1 stick (125g) unsalted butter , melted
3/4 cup (115g) all purpose flour
2 cups (500 ml) whole milk (lukewarm) (not skim)
To Serve (optional)
Powdered sugar, for dusting
Fresh strawberries
Whipped cream
Directions
Preheat oven to 325F
Butter a 8″ x 8″ square cake pan
Beat egg whites with a mixer until stiff peaks form. Set aside.
Place the egg yolks and sugar in a bowl and beat until it turns pale yellow – about 1 minute.
Add the vanilla extract and butter and beat until well incorporated – about 30 seconds to 1 minute.
Add the flour and beat until just combined.
Pour the milk in slowly while beating, and beat until well combined
Use a spatula to fold in the egg whites in the batter, one third at a time, until just incorporated.
Pour the batter into the prepared pan.
Bake until the top is dark brown and the cake does not "jiggle" when you gently shake the pan about 40 to 50 minutes. Check the cake at 30 minutes – if the top is already dark brown but the cake is not yet set, cover loosely with foil and return to the oven, 10 minutes at a time, until set.
Allow to cool in the tin for 10 minutes, then turn out onto a cooling rack.
Cool completely before serving.
Source: Jo Cooks