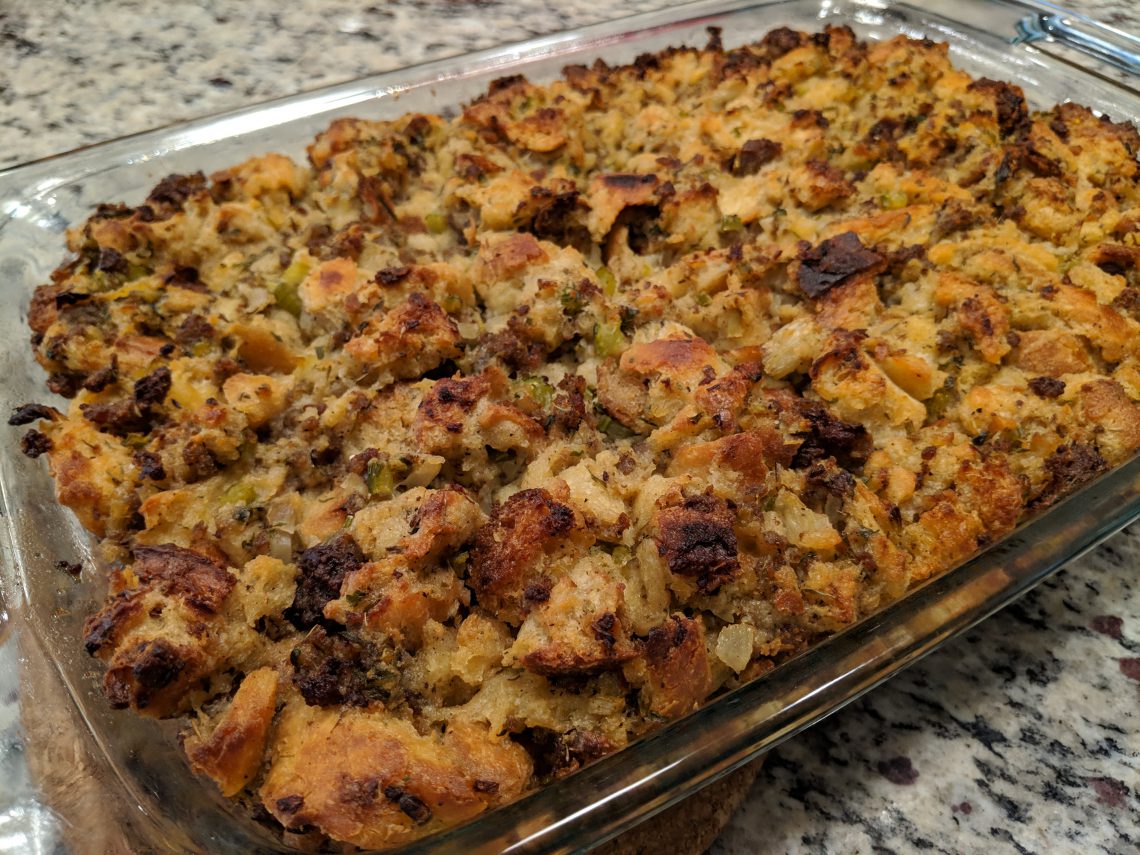 Thanksgiving Stuffing (Dressing)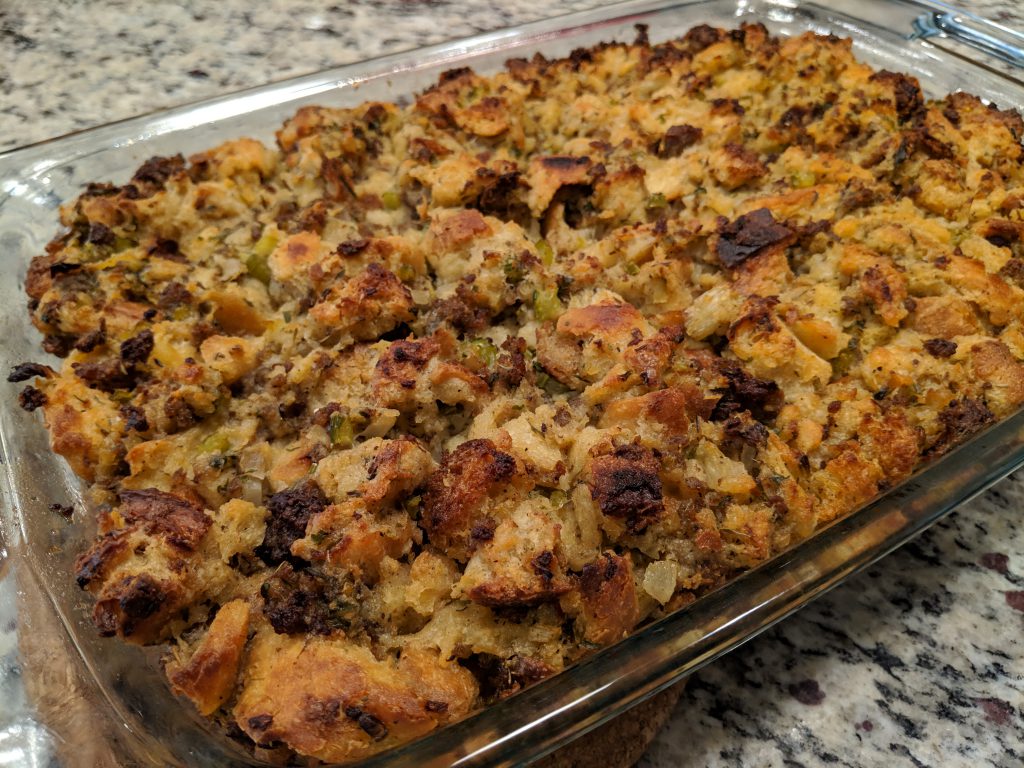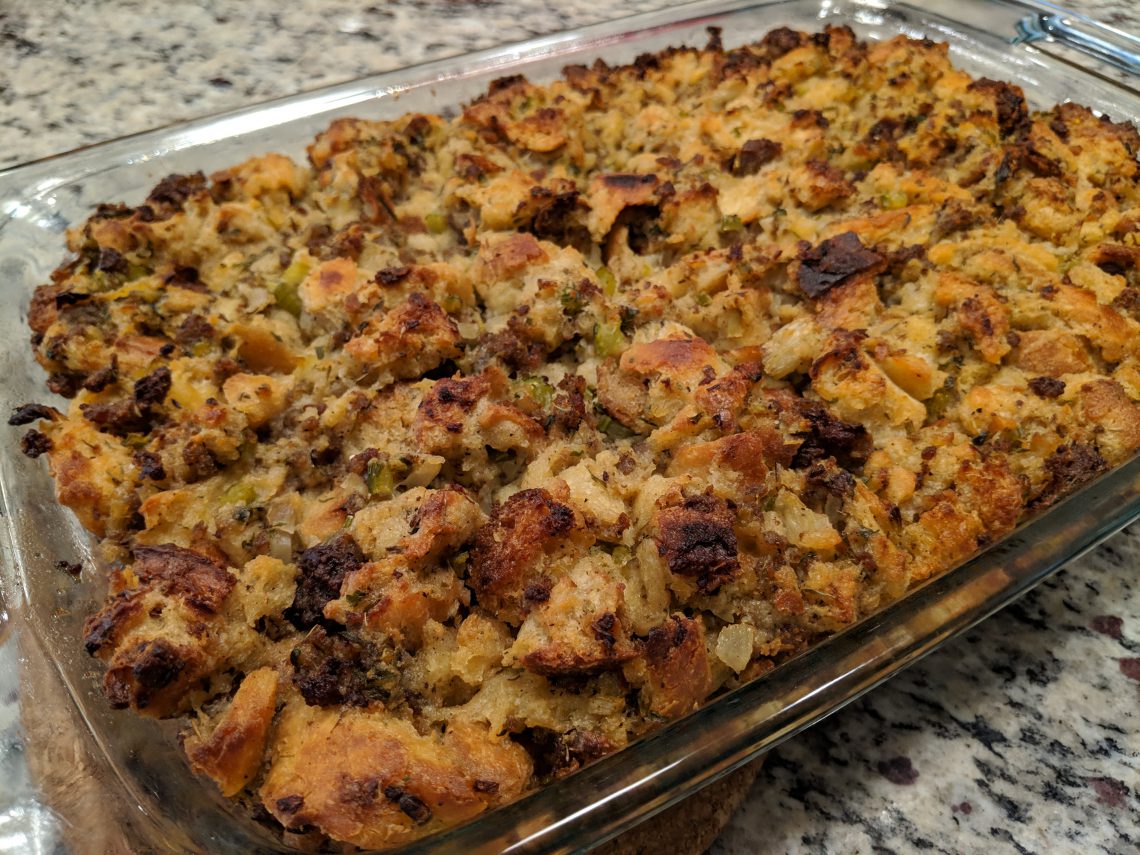 I was asked to bring stuffing for our Thanksgiving pitch-in, which to me means make something simple complicated (homemade). This was a huge hit and miles above the boxed equivalent.
Ingredients
1 cup (2 sticks) unsalted butter, plus 1 tablespoon more
1.5 pounds loaf sourdough bread, sliced 1 inch thick, torn into 1/2–3/4-inch pieces
1 tablespoon extra-virgin olive oil
1 pound breakfast sausage, casings removed if needed
1 large onion, finely chopped
1 fennel bulb, finely chopped
4 celery stalks, finely chopped
1 1/4 teaspoons kosher salt
1 teaspoon freshly ground black pepper, plus more
1/2 cup dry white wine or chicken broth
1/4 cup finely chopped parsley
1 tablespoon finely chopped sage
1 tablespoon finely chopped thyme
3 large eggs
4 cups low-sodium chicken broth, divided
Directions
Preheat oven to 300° with racks in the middle.
Butter a 3-qt. baking dish.
Divide bread between 2 baking sheets and bake until dried out, 25–35 minutes. Let cool.
Heat oil in a large skillet over medium-high. Cook sausage, breaking into small pieces, and until a little crispy. Transfer sausage to a plate.
Reduce heat to medium and melt butter in same skillet.
Add onion, fennel, and celery; season lightly with salt and pepper. Cook until vegetables are very tender but not browned, 12–15 minutes.
Add wine to deglaze. Bring to a boil and cook until liquid is mostly evaporated, about 3 minutes.
Toss in parsley, sage, and thyme and let mixture cool in skillet.
Increase oven temperature to 350°.
Whisk eggs and 2 cups stock in a very large bowl.
Add bread, sausage, and onion mixture and toss well to combine. Add salt and pepper.
Drizzle remaining 2 cups stock over and toss again to combine.
Let sit, tossing occasionally, until bread absorbs all of the liquid, about 10 minutes.
Transfer stuffing to prepared dish; butter a sheet of foil and cover dish, butter side down.
Bake on middle rack until very hot throughout (center should register 160°), 35–40 minutes.
Increase oven temperature to 425°.
Remove foil and transfer baking dish to top rack. Continue to bake stuffing until golden brown, 25–30 minutes longer.
Source: Bon Appetit