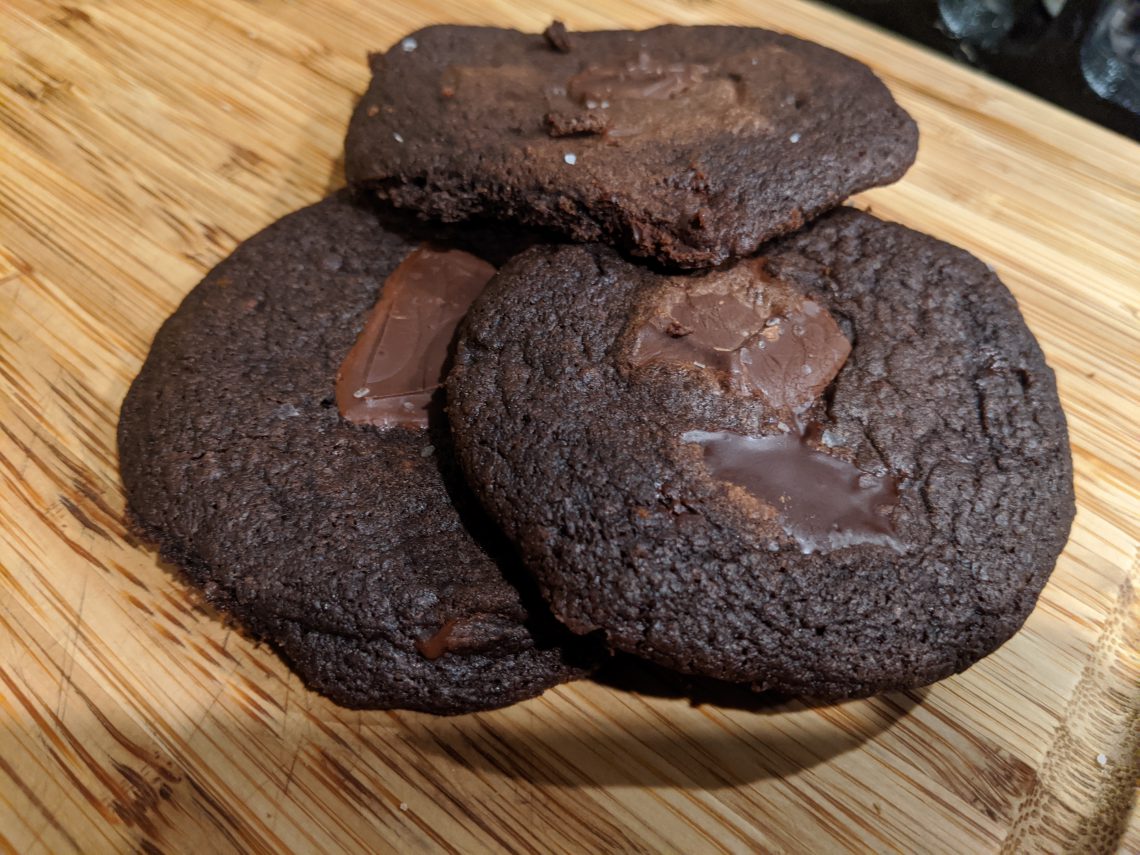 A rich brownie like cookie with a gooey puddle of chocolate on top. What more can a chocolate lover ask for?
Ingredients
2 large eggs, room temperature
5 2-oz. bittersweet chocolate bars (around 70% cacao)
1 cup (2 sticks) unsalted butter cut into large pieces
1 2/3 cups (235 g) all-purpose flour
1 tsp. (5 g) baking soda
1/3 cup (38 g) Dutch-processed cocoa powder
3/4 cup (170 g; packed) dark brown sugar
1/4 cup (50 g) granulated sugar
1 1/2 tsp. (6 g) kosher salt
1 Tbsp. (22 g) vanilla paste or extract
Directions
Coarsely chop four 2-oz. chocolate bars to slightly 3x the size of regular morsels. Chop remaining 2-oz. chocolate bar into 20 pieces to be placed on top of cookies just before baking.
Cook butter in a medium saucepan over medium-low heat, stirring often, until it foams, then browns, 7–9 minutes. Immediately scrape into a large bowl and let cool slightly, about 5 minutes.
While butter cools, pass flour, baking soda and cocoa powder through a fine-mesh sieve into medium bowl, then whisk to combine.
Add brown sugar, granulated sugar, and kosher salt to browned butter. Using a sturdy spatula, stir vigorously to combine. Add 1 large egg and stir vigorously until incorporated, about 1 minute. Repeat with remaining 1 large egg, then whisk in vanilla.
Slowly stir in dry ingredients just to combine. Mix in the 4 chopped chocolate bars you set aside.
Let dough sit at room temperature at least 1 hour to let flour and cocoa hydrate.
Place a rack in middle of oven; preheat to 375°. Line 2 baking sheets with parchment paper. Shape dough into ping-pong sized balls. Arrange on prepared baking sheets, spacing about 3″ apart. Lightly press a chunk or two of remaining chocolate on top of each dough ball.
Bake cookies, rotating pans top to bottom and front to back halfway through, until edges are just set but centers are still soft, 8–10 minutes. Let cool on baking sheets 10 minutes, then transfer to a wire rack and let cool completely.
Source: Bon Appetit